Foreign Investors are buying Miami Real Estate: Is your website providing them the tools they need?
We at GOIDX specialized in understand our Customer needs and the Market needs of our community, that why we are happy to have collaborated with Irina Kim Sang — A Coldwell Banker Realtor who operates and runs MiamiforRussian.ru   The project was launched more than two years ago and it was setup in anticipation of the market that we have Today.   Miami For Russian is a website that is tailor to help Foreign investors invest and live in Miami and surrounding communities.    We have done numerous other projects in various other languages as well — from Spanish, Mandarin and Russian, and this one was one that we were extremely excited to have launched very early on.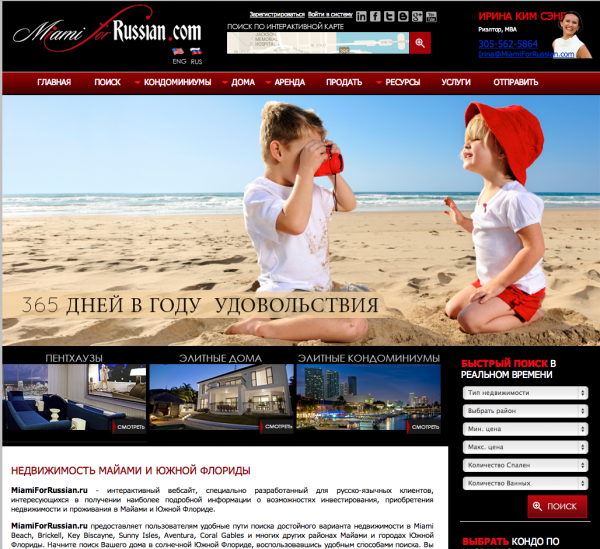 In Miami we are a very extremely diverse community and we have amongst one the most diverse cultural groups in the country.  Everyone enjoys and loves to be part of a great vibrant city and nothing is further from the truth than seen how Miami has enjoyed this great diversification of people and culture.   We knew very early on that creating Miami for Russian to help foreign buyers see information and search information in their natural language was important to them, so we were right on target and early in deploying this project.    We now see how the collaboration has helped foreign buyers better see Real Estate Data, but has also helped our customer better engage their customers too.
The project is all translated so that it can be properly indexed in Yandex and other Russian speaking search engines including Google's very own Russian Search engine.   We have placed the website closer to the customer and that has allowed for it to grow organically and efficiently over the past two years.   We think this was perfect timing in the collaboration of this project with Irina, and we are looking forward to what is next in terms of what the Miami Real Estate Market is doing with foreign buyers Today.   So, if you're only considering a website in English, you should perhaps look into and get closer to your customers if they first choice of language is not English.
You can learn more about Miami Russian foreign buyers and Miami for Russians by visiting our client website at www.miamiforrussian.ru.   If you are interested in a website to best meet or exceed the demands of foreign investors in Miami or South Florida, speak to one of our sales agent Today and don't miss this great opportunity.