Searching for a condo or home in Downtown Dadeland is now easier for consumers
We are please to announce the launch of a new website for our client.   The Rent Dadeland project was created for consumer's who are interested in living in an area of South Florida that is growing and vibrant.   Downtown Dadeland is composed of several buildings that allow consumers to live in near conveniences of  urban living. RentDadeland.com offers customers the ability to quickly and efficiently find a rental in this area.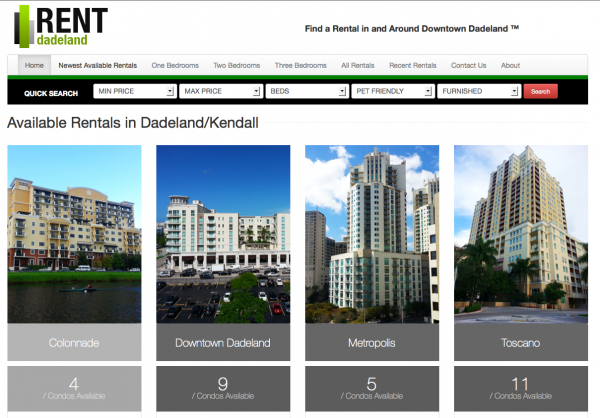 Our client asked us to help them build a website that they can use as well when they meet with clients and made it easier to share and collaborate in the search for rentals in dadeland.   The project is just focused on Rentals in Dadeland and a customer can view inventory based on several criteria's.   We incorporated the most frequent types of searches that can be done for Dadeland and that of most interest to most consumers.
Renting an Apartment in dadeland is extremely simple with this new website, because the information is nicely organized by bedrooms, newest available rentals, pets requirements, furnished or unfurnished apartments.   There is also rental history so that consumers can get an idea as to what the market in dadeland is demanding for rentals, We hope to continue to grow this project and incorporate more customer friendly features for our client.
While the main focus of the website are four primary buildings:
consumers can view all the other buildings that are around the area as well, from Kings Creek and all nearby Homes, Town homes and Condos.  This was a fun project and we are looking forward to growing the website with new functionality and features for consumers to enjoy when search for a rental in Dadeland.